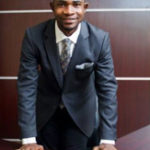 Adedeji Alebiosu runs The Made in Nigeria Project, a social enterprise aimed at reigniting the will for nation building socially, politically and economically.  The initiative seeks to celebrate and promote everything uniquely positive about Nigeria as a people and as a nation.
Adedeji's passion for Nigeria coupled with the exposure he got while he was a member of the Ovie Brume Foundation Youth Centre between 2005 and 2009 informed his decision to initiate the "Made in Nigeria" project.  Moreover, the will to get other young people to believe more in their own potential, their country and the consciousness of the role young people play in national development regardless of the daunting socio-economic challenges has been a driving force of this initiative.
As a young leader, Adedeji believes that young people have the potential to proffer lasting solutions and be "Made in Nigeria", without having to seek for greener pastures abroad, believing that a greater and enviable nation in Nigeria is possible.
Adedeji also seeks to be one of Africa's most sought after young leaders playing a pivotal role in its growth and development.  His vision is to be of service to humanity, influencing, creating and proffering lasting solutions that will trigger real change, add value, make a difference and bring about change in Africa in terms of policy, governance and leadership.