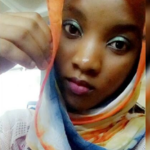 Naomi Osuji is presently a student of Yaba College of Technology in the department of Mass Communication.  She became a member of the Ovie Brume Foundation in 2009 and an alumnus in 2015 after graduating from Secondary school.  Naomi believes that the Foundation has tremendously impacted her life positively.
Naomi enrolled in the literacy programme and computer classes, which helped develop her study skills and reading comprehension; and a result she recorded great improvement in her academics.  As a young member of the Ovie Brume Youth Centre, Naomi was exposed to various opportunities, which helped her make informed decisions.  One of such opportunities was, "Meet the Professional", a forum where students meet with various exceptional professionals in their chosen fields.  The forum shaped Naomi's decision to pursue a career in Mass Communication majoring in Journalism and Public Relations after meeting with Ms. Rekia Zubairu and she has gone on Job Placement with the Nigerian Television Authority (NTA 2 Channel 5).
Today, Naomi is an ambassador of the Foundation and a role model to other young members.  She is always at hand at the youth centre to give back to the younger generation.