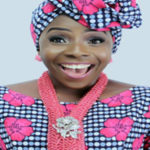 Victoria Okoro is an emerging entrepreneur who founded "De Creativicky Collectionz Ltd".  She studied marketing at the University of Calabar, but she is passionate about different forms of crafts for beads that impact the lives of fellow youths.
Her flare for arts and crafts developed when she enrolled at the Ovie Brume Foundation during secondary school.  Through some extra curriculum activities such as tie and dye, painting and bead making she developed a passion for bead crafts, which has now become very lucrative.
Victoria's enrolment at the Ovie Brume Foundation Youth Centre exposed her to numerous activities.  Her participation in the literacy class helped improve her vocabulary and communication skills as she subsequently emerged the "Spelling Bee" champion – a competition organised by the Lagos State Government under the administration of Senator Ashiwaju Bola Ahmed Tinubu.  She represented her school Girls' Secondary Grammar School Obalende (G.S.G.S.O) and Eti-Osa local government at the national level for two consecutive years.  Victoria's contribution at the Youth Centre earned her a position as the centre's Youth Female Captain.  At that time, she won an award as the most punctual and active student in the theatre art department.
As a lover of art, culture and adventure, Victoria attended the Glitz fashion week 2013 in Accra, Ghana.  This gave her great exposure and insights about her craft and how enterprising it is.  On her return from Ghana, she was hosted on an interview by Television Continental (TVC) where she spoke extensively about entrepreneurship and the way forward for Nigerian youths.
Victoria has attended many exhibitions such as, but not limited to "Untapped resources" Abuja, "Black Heritage Festival" Badagry, "National Bar Association" annual conference Kaduna, "NAFEST" Bayelsa, "Arts & Skills exhibition" National theatre Iganmu Lagos, Niger Delta Arts & Skills exhibition Calabar, AFAC 2013 Abuja.
She is currently the Bead instructor and Assistant project director at the Southern Business Academy, where people are groomed to become independent entrepreneurs.
Victoria is passionate about positive change in the society, enthusiastic and aspiring to become an employer of labour.  She is striving to be among the leading women in Nigerian society and one of the largest bead producers in Africa and the world at large. She would like to partner with both local and international organisations to help youths both at home and in the diaspora.