PROJECT NO EXCUSES
Educating the Next Generation
Education is universally acknowledged to have a significant impact on future earnings.  A good education therefore, is the foundation that a young person needs to be able to overcome societal challenges and become a valuable, income-generating member of the community.
In our work with young people over the years, we have witnessed real life stories of children and youth who are prospering in school, but who drop out due to their parent's inability to pay for school uniforms, books, and the harsh reality that children can provide income to the family through hawking or working. This is the reality of a nation mired in poverty.
To this end, the Foundation seeks sponsors to cover the cost of providing educational, nutritional, health and social support to children who want to go to school.  Scholarship recipients are young people in primary or secondary school, who have excelled in their studies but whose families are unable to meet the economic demands of education.
How Does it Work?
We seek sponsors to support beneficiaries of the scheme for the duration of their primary or secondary school education. This is a long-term commitment that ensures the project's sustainability. A child is therefore supported throughout his/her stay in primary or secondary school.  The sponsor will provide the funds to Ovie Brume Foundation on an annual basis, and the Foundation will administer the funds to the scholarship recipient. Sponsors are therefore encouraged to support a child for at least two years or the duration of his/her primary or secondary education.
Project No Excuses Beneficiaries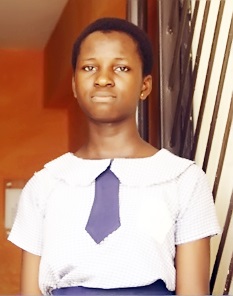 Maria Enejo a beneficiary of Project No Excuses Scholarship Scheme
Maria Enejo is a student of Victoria Island Senior Secondary School.  Maria has been a member of the Ovie Brume Foundation for seven years, and is a beneficiary of the "Project No Excuses" scholarship scheme.
According to Maria, "Project No Excuses" scholarship scheme provides me with books and stationery every term, nutritional support for my family and myself.  For instance, the food support has been a big support for my family and I because it helps us to maintain a well-balanced diet.  The shopping also plays an important role in boosting my confidence and making me blossom each day.  Not to mention the educational support, otherwise I would have become a drop out today thereby making my vision and future plan abated.  The scholarship came when all hope of my school continuity was lost.
The Foundation has been the solid backbone to my outstanding achievements in my academics and they have impacted my family and me positively.   I feel the profound desire to say a big "thank you" to my sponsor and the Foundation for giving me this lifetime opportunity.
Maria is female captain of Ovie Brume Foundation Taekwondo Club.